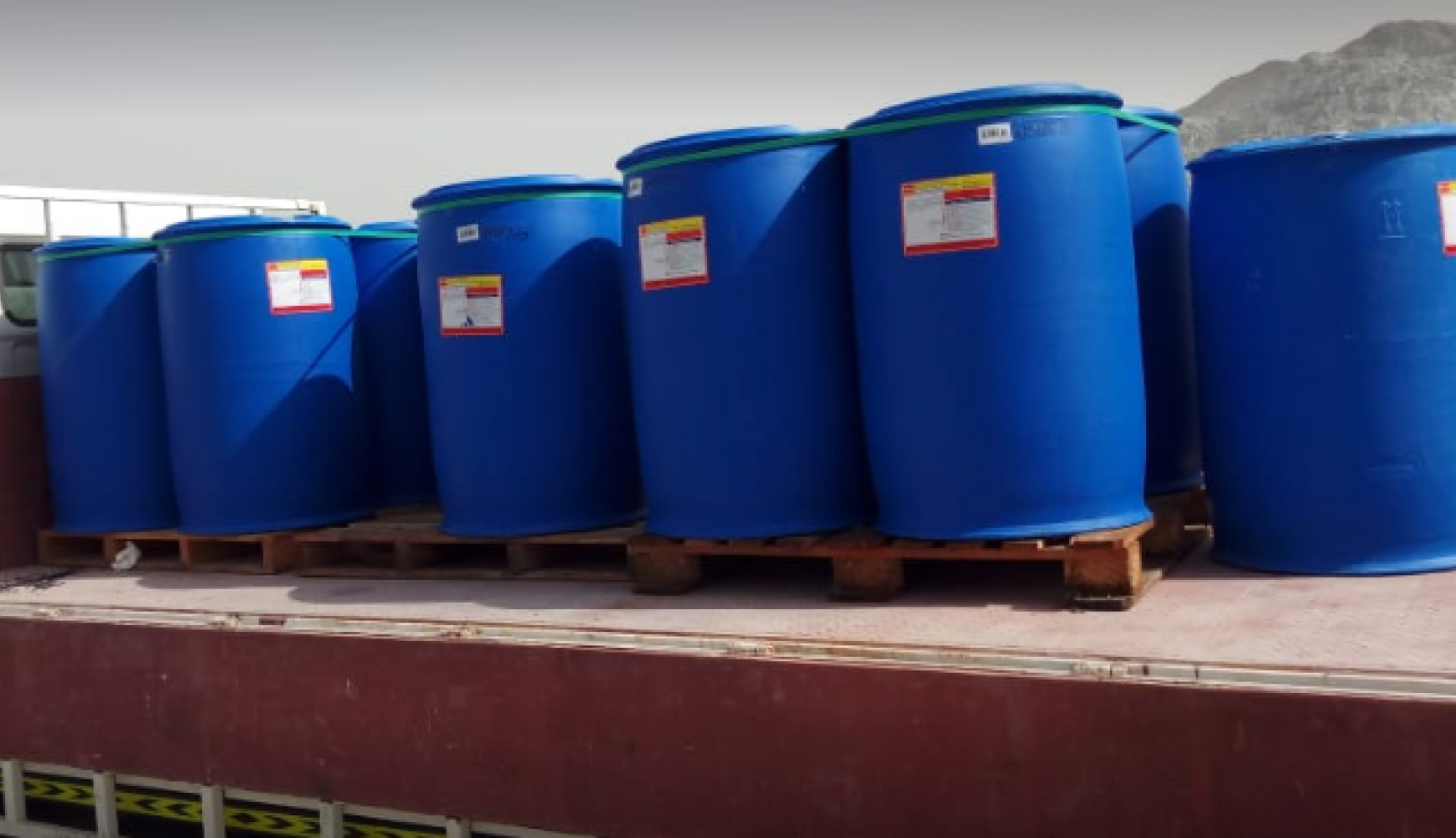 Dubi Chem is one of the Tri ethanol amine manufacturers, exporters, and suppliers in Fujairah, Sharjah, Abu Dhabi, Ajman,Ras Al Khaimah, kuwait, Muscat, Dubai UAE. We are supplied to various industrial markets including Household, Institutional Cleaning, Personal Care, and Industrial sectors including Oil fields, chemical, Animal feed additive, Food additive, Agrochemical, Fertilizer, pharmaceuticals, water treatment, Minerals, Lubricants, Marine Industry, Metal Working chemical industry, and Coatings markets.
Tri ethanol amine is a viscous organic compound that is both a tertiary amine and a triol. Triethanolamine (TEOA) can be used for chromatographic modification reagent that possesses some chemical properties. Triethanolamine (TEA) is applied as a stabilizer and pH adjusting chemical for the aminolysis of polyester surface and enhancing the surface reactivity along with synthesis and deposition of ZnO nanoparticles on the fabric.
RXSOL-19-1461-210 (TRI ETHANOL AMINE)
CAS No: 102-71-6                        
Model NO.:102-71-6                     
Appearance: Colorless to light yellow, viscous liquid
Other names
2,2′,2′′-Nitrilotriethanol
Tris(2-hydroxyethyl)amine
Triethylolamine
2,2′,2′′-Trihydroxytriethylamine
Trolamine
TEA
TELA
TEOA
N(CH2CH2OH)3
Application & Function
Triethanolamine is mainly used in the manufacture of surfactants, liquid detergents, cosmetics, etc. It is one of the components of cutting fluid and antifreeze. It can also be used as emulsifier of oil, wax and pesticide, humidifier and stabilizer of cosmetics, softener of textile, anti-corrosion additive of lubricating oil. It is also an early strength agent commonly used in cement industry.
Application
Triethanolamine can be neutralizer, which offers modest and small irritation to skin. Widely used in shampoo, bath, cosmetics, washing agents as a surfactant. Widely used in shampoo, bubble bath and facial cleanser, is a mild surfactant. More suitable for the preparation of low irritative shampoo and baby bath lotion.
Applications
Triethanolamine is used primarily in making surfactants, such as for emulsifier. It is a common ingredient in formulations used for both industrial and consumer products. The triethanolamine neutralizes fatty acids, adjusts and buffers the pH, and solubilizes oils and other ingredients that are not completely soluble in water. Triethanolammonium salts in some cases are more soluble than salts of alkali metals that might be used otherwise, and results in less alkaline products than would from using alkali metal hydroxides to form the salt. Some common products in which triethanolamine is found are sunscreen lotions, liquid laundry detergents, dishwashing liquids, general cleaners, hand sanitizers, polishes, metalworking fluids, paints, shaving cream and printing inks.
Cement production
Triethanolamine is also used as organic additive (0.1 wt%) in the grinding of cement clinker. It facilitates the grinding process by preventing agglomeration and coating of the powder at the surface of balls and mill wall.
In holography
TEOA is used to provide a sensitivity boost to silver-halide-based holograms, and also as a swelling agent to color shift holograms. It is possible to get the sensitivity boost without color shift by rinsing out the TEA before squeegee and drying.
In electroless plating
TEOA is now commonly and very effectively used as a complexing agent in electroless plating.
In ultrasonic testing
2-3% in water TEOA is used as an corrosion inhibitor (anti-rust) agent in immersion ultrasonic testing.
In aluminium soldering
Triethanolamine, diethanolamine and aminoethylethanolamine are major components of common liquid organic fluxes for the soldering of aluminium alloys using tin-zinc and other tin or lead-based soft solders.
Cosmetics and medicine
Various ear diseases and infections are treated with eardrops containing triethanolamine polypeptide oleate-condensate, such as Cerumenex in the United States. In pharmaceutics, triethanolamine is the active ingredient of some eardrops used to treat impacted earwax. It also serves as a pH balancer in many different cosmetic products, ranging from cleansing creams and milks, skin lotions, eye gels, moisturizers, shampoos, shaving foams, TEA is a fairly strong base: a 1% solution has a pH of approximately 10, whereas the pH of skin is less than pH 7, approximately 5.5−6.0. Cleansing milk–cream emulsions based on TEOA are particularly good at removing makeup.
We are trying our best to supply every chemical you may wish to buy. However, if there is something you can't find, feel free to contact us and we will find just what you are looking for and offer you a competitive price. We have many customers in the United States, Canada, Mexico, Australia, United Kingdom, and European Union countries and retain long-term cooperation. ​For more information or to request a particular product, call customer services or Given website Email address.