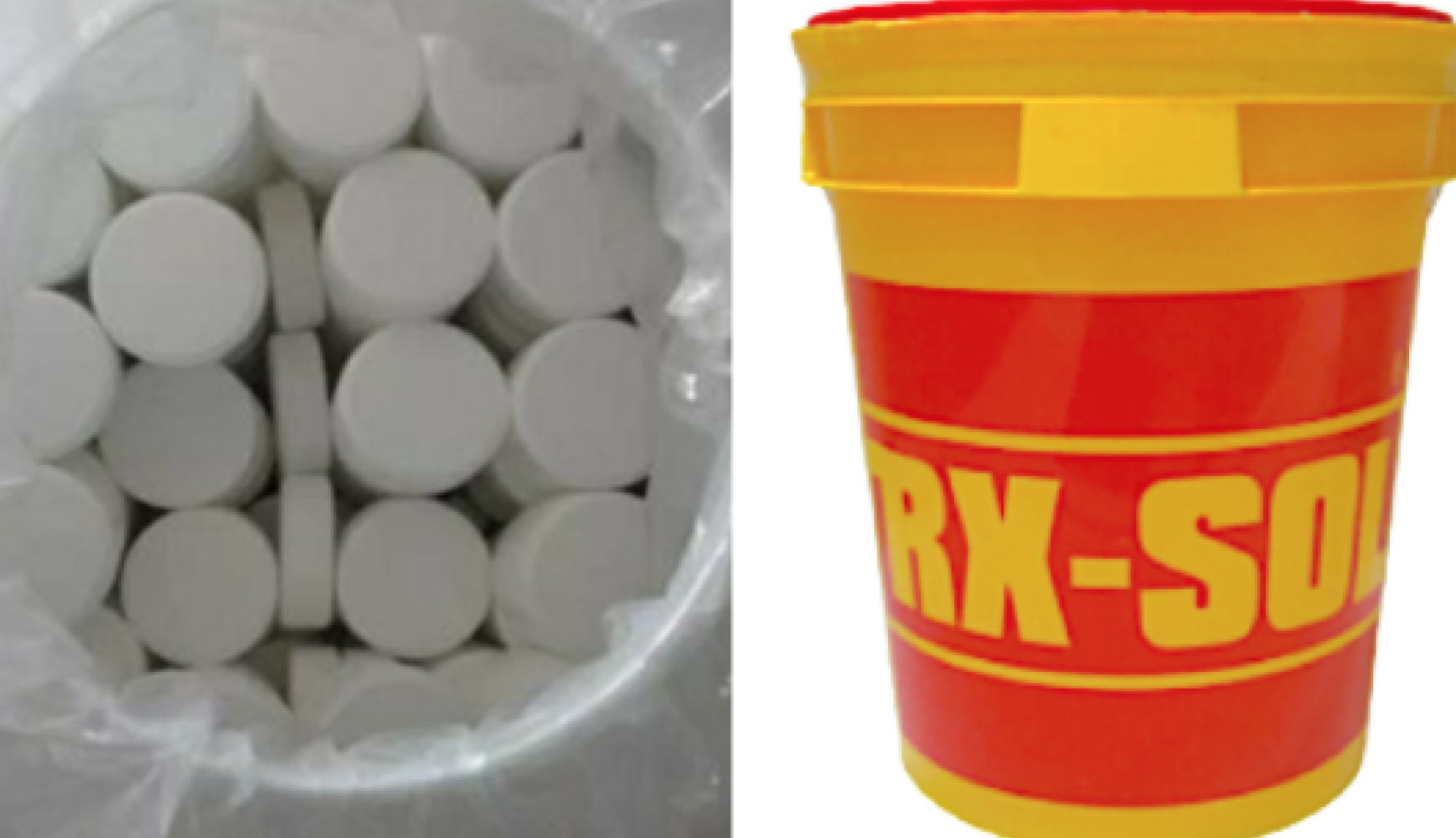 DUBI CHEM is one of the largest chlorine tablet TCCA manufacturers, suppliers, and exporters in Dubai, Fujairah, Sharjah, Abu Dhabi, UAE Middle East. We have ready stock of 200gm large chlorine tablet TCCA and 200gm large chlorine tablet calcium-based. We can supply small packing as well as in bulk quantities. Get the best price of chlorine tablets in Dubai, Fujairah, Abu Dhabi, Sharjah, Sohar, UAE, Middle East by writing a mail to us at: mail@dubichem.com
We assure the best quality of chlorine tablet and it is RXSOL brand chlorine tablet. We have exported chlorine tablets from our Fujairah location to places far and wide. Chlorine Tablet is a very useful disinfection agent. Chlorine Tablet is used in swimming pools, water parks, amusement parks, water disinfection by municipalities, and aquariums. DUBI CHEM is supplying the most premium quality chlorine tablet in places far and wide and especially to large aquariums, water parks, and swimming pool owners.
RXSOL Chlorine tablet is a very trusted product and is used by many in Dubai, Fujairah, Abu Dhabi, Sharjah, Sohar, UAE Middle East, Barka, Muscat, Oman. We are soon to launch our products in Canada BC too.
How to use RXSOL CHLORINE TABLET in swimming pools?
It is very easy to use RXSOL chlorine tablets in swimming pools, just follow these steps and you will be able to disinfect your swimming pool easily.
First, check the chlorine level of your swimming pool. The chlorine level shouldn't be less than 3 ppm. DUBI CHEM has a ready stock of the SWIMMING POOL chlorine level checker. Using which you can very easily check the constituent of your pool.
Now use our CHLORINE DISPENSER FLOATER and put 200gm large RXSOL CHLORINE TABLET in the chlorine dispenser and let it float in the swimming pool. Keep it away from children.
The other way of using chlorine tablets to disinfect your pool is by putting 200gm Chlorine Tablets in the inline or outline chlorinator.
Remember to keep your head away while opening the chlorinator else you will be breathing in a lot of unwanted gases.
Now your swimming pool will get chlorinated.
Specialties of RXSOL chlorine tablet
RXSOL Chlorine Tablet is very special and different from other chlorine tablets in the market. Our chlorine tablet is not just a source of chlorine but also contains a stabilizer that increases the efficiency of the chlorine tablet. This makes the chlorine tablet even more superior to others when coming to its use. RXSOL Chlorine tablets are available in 200gm large circular shape as well as in small forms.
Feel free to contact us anytime you have a question.
For booking your chlorine tablet from one of the largest manufacturer supplier exporters of chlorine tablets in Dubai, Fujairah, Sharjah, Abu Dhabi, Sohar, Middle East UAE, Barka, Muscat, Oman, Canada, India, mail us at: mail@dubichem.com
Write a message to us by clicking on this link, you will get your query solved or get the quotation of your requirements immediately: www.dubichem.com/contact