These 3" Jumbo Tabs fit perfectly in most chemical feeders to ensure proper and simple sanitation for your swimming pool. These tablets are densely compacted and erode at a slow rate that provides constant chlorination, increased lifespan, and a better value. With 90% active ingredients, POWERFULL 
Product Application:
Pool Chemical Features
3" Chlorine Tabs
8 oz. individually-wrapped tablets
No fillers or binders
90% active ingredient
Densely compressed, and slow-dissolving
99% Trichloro-s-trianzinetrione
Product Dose:
Our 3" Jumbo Tabs are densely compacted, chlorine tablets that provides your pool with long lasting sanitation. Dosage: 1 per week
Product Note:
Jumbo Tabs are designed with a built-in UV inhibitor that protects the chlorine in your pool against the harsh sun rays. The active inhibitor blocks the sun rays to ensure longer lasting sanitation in your swimming pool. These tablets don't contain fillers or binders in order to ensure effectiveness and sparkling clean pool water. Achieve clearer water with our 3" Jumbo Tabs.
Product Technical Specification: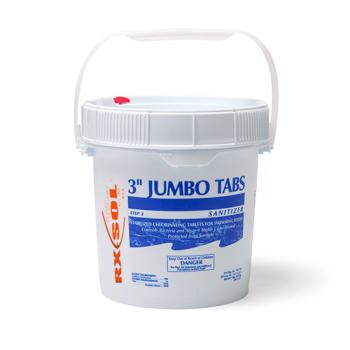 Free Delivery / Supply Locations :
Oman, Bahrain, Abu Dhabi, Ajman, Al Ain, Dubai, Ras Al-Khaimah, Ras al Khaimah, Fujairah, Sharjah, Umm Al Quwain, Fujairah, Ruwais, Mina (Port) Zayed, Khalifa Port, Kizad, Port Rashid, Jebel Ali Port, DP WORLD, Jebel Ali Free Zone, Khor Fakkan Container Terminal, Port Rashid, Jebel Ali Port, Mina Kalid Port, Khor Fhakan Port ( Khawr Fakkan, Khawr al-Fakkan ), Sharjah Creek, Ajman, Port of Hamriyah, Mina Zayed Port, Mussafah port, Khalifa Port, Umm al-Nar Port, Um Al Quwain Port, Saqr Port, Port of Fujairah, Dibba Port, Jebel Dhanna, Mina Al Hamriya, Mina Rashid, All United Arab Emirates