Available Packing Sizes:
Tri Ethylene Glycol TEG is available in small packing as well as in Bulk Tanker Load.
Triethylene glycol, high-purity grade viscous liquid.  We are supplier of TEG in small as well as Big drum sealed packing to maintain its quality to meet high-purity specifications for applications such as polyester resins, UV-curable resins and plasticizers.
Product Application:
TEG is High boiling point solvent also used as a Metal cleaning agent in metal surface treatment, It can be used as metal cleaning agent to remove oil, paint and other dirt. It is a good high boiling point solvent; can be used as solvent and coloring agent.
Product Technical Specification:
PRODUCT NAME 
:
TRIETHYLENEGLYCOL
CAS number      
:
112-27-6
UN number      
:
 
Formula        
:
(CH2OCH2CH2OH)2
Odour   
:
PRACTICALLY ODOURLESS
Solubility in water   
:
 COMPLETE
Density
:
1.1     at 20    oC
Boiling point   
:
287     oC
Melting point 
:
-5 oC
 Viscosity         
:
47.8 cp at 20 oC
 Flashpoint           
:
177 oC
 Explosive limits     
:
0.9 – 9.2 Vol%
 Vapour pressure      
:
.01 mbar at 20 oC
Skin absorption/irritation          
:
YES
TLV       Country  NL             Year  1995  
:
 
 Pollution category    1994     
:
III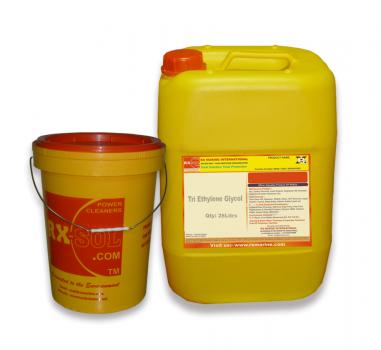 Tri Ethylene Glycol TEG Importer Exporter and supplier in Muscat Oman, Fujairah UAE Middle East, Dubai, Sohar, Abudhabi, Kuwait, Sharjah, Mumbai, Gandhidham, Chennai, Kolkata, Visakhapatnam, India - Canada
Free Delivery / Supply Locations :
Oman, Bahrain, Abu Dhabi, Ajman, Al Ain, Dubai, Ras Al-Khaimah, Ras al Khaimah, Fujairah, Sharjah, Umm Al Quwain, Fujairah, Ruwais, Mina (Port) Zayed, Khalifa Port, Kizad, Port Rashid, Jebel Ali Port, DP WORLD, Jebel Ali Free Zone, Khor Fakkan Container Terminal, Port Rashid, Jebel Ali Port, Mina Kalid Port, Khor Fhakan Port ( Khawr Fakkan, Khawr al-Fakkan ), Sharjah Creek, Ajman, Port of Hamriyah, Mina Zayed Port, Mussafah port, Khalifa Port, Umm al-Nar Port, Um Al Quwain Port, Saqr Port, Port of Fujairah, Dibba Port, Jebel Dhanna, Mina Al Hamriya, Mina Rashid, All United Arab Emirates