RXSOL-20-T-300-10  is a multi - prupose heavy duty cleaing soap solution used as a common dirt remover in residential, commercial and industrial cleaning processes.
Product Application:
Universal cleaner for home, institutes, plant and machinery. compatible with all type of surfaces.
Product Note:
RXSOL-20-T-300-10 has a long non-polar hydrocarbon chain and a highly polar group at the end of the molecule thus having a cleaning power better than ordinary soap.
Product Technical Specification: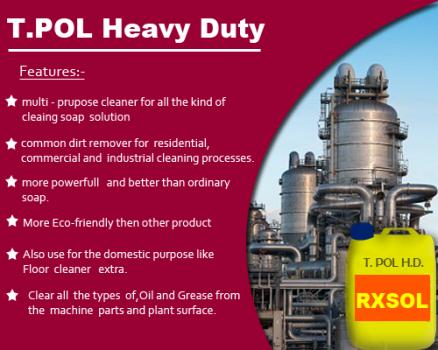 Free Delivery / Supply Locations :
Oman, Bahrain, Abu Dhabi, Ajman, Al Ain, Dubai, Ras Al-Khaimah, Ras al Khaimah, Fujairah, Sharjah, Umm Al Quwain, Fujairah, Ruwais, Mina (Port) Zayed, Khalifa Port, Kizad, Port Rashid, Jebel Ali Port, DP WORLD, Jebel Ali Free Zone, Khor Fakkan Container Terminal, Port Rashid, Jebel Ali Port, Mina Kalid Port, Khor Fhakan Port ( Khawr Fakkan, Khawr al-Fakkan ), Sharjah Creek, Ajman, Port of Hamriyah, Mina Zayed Port, Mussafah port, Khalifa Port, Umm al-Nar Port, Um Al Quwain Port, Saqr Port, Port of Fujairah, Dibba Port, Jebel Dhanna, Mina Al Hamriya, Mina Rashid, All United Arab Emirates