RX-Chlor  is a broad spectrum fast acting sanitizer and water sterilizer , rapidly effective against BACTERIA, VIRUSES, FUNGI and PROTOZOA. Total spectrum of activity i.e. effective against hydro hypophilic viruses, gram positive & gram negative bacteria, fungi mould, yeast, mycoplasmas & protozoa.
Product Application:
Drinking Water Purification.
Hospital Disinfection.
Baby Bottle Sterilizing.
Janitorial Cleaning.
Food and Catering.
Fruit and vegetable disinfection.
Poultry.
For fast treatment of water for:
Emergency and Disaster.
Travel and Camping.
Household.
Peace Keeping/Defence Forces.
Marine Application.
Disinfection of Water System.
Municipal Water supplies.
Product Note:
Chlorination Requirements:
# For EMERGENCY use with clouded water .
(Water of unknown quality, surface water and open wells) - 5 PPM
# For use with clear water and permanent HOUSEHOLD water drinking use
(Water from bareholes andclear municipal tapwater) - 2 PPM
Note: 1 PPM= 1 mg in 1000 ml of water
Product Technical Specification:
| | | | |
| --- | --- | --- | --- |
| Name of Product | Available Chlorine | Volume of Water to be treated | Packing |
| RX - Chlor 3.5 mg. | 2 mg | 1 litres | 10 x 10 Strips |
| RX-Chlor 8.5 mg. | 5 mg. | 1-2 litres | 10 x 10 Strips |
| RX-Chlor 17 mg. | 10 Mg. | 4-5 litres | 10 x 10 Strips |
| RX-Chlor 33 mg. |  20 Mg. |  8 litres |  10 x 10 Strips |
| RX-Chlor 67 mg. |  40 Mg. |  10-12 litres |  10 x 10 Strips |
| RX-Chlor 75 mg. |  45 Mg. |  20 litres |  10 x 10 Strips |
| RX-Chlor 167 mg. |  100 Mg. |   25-30 litres |  10 x 10 Strips |
| RX-Chlor 400 mg. |  240 Mg. |   50-80 litres |  8 x 8 Strips |
| RX-Chlor 500 mg. |  300 Mg. |   100-120 litres |  50 Tablets Jar |
| RX-Chlor 1.67gm. |  1000 Mg. |   500 litres |  50 Tablets Jar |
| RX-Chlor 2.5gm. |  1500 Mg. |  750 litres |  1000 Tablets Jar |
| RX-Chlor 3.5gm. |  2100 Mg. | 1000 litres |  50 Tablets Jar |
| RX-Chlor 4gm. |  2400 Mg. |  1000 - 1200 litres |  50 Tablets Jar |
| RX-Chlor 15gm. |  9000 Mg. |  4000 litres |  50 Tablets Jar |
| RX-Chlor 8.68gm. |  5000 Mg. |  2000 litres |  50 Tablets Jar |
|  RX-Chlor 200gm. |  1,20,000 Mg. |  50000 litres |  50 Tablets Jar |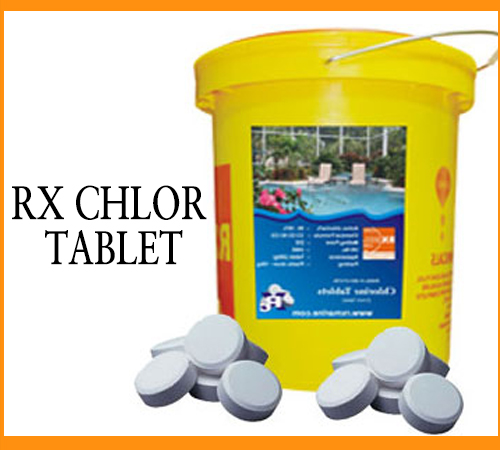 Free Delivery / Supply Locations :
Oman, Bahrain, Abu Dhabi, Ajman, Al Ain, Dubai, Ras Al-Khaimah, Ras al Khaimah, Fujairah, Sharjah, Umm Al Quwain, Fujairah, Ruwais, Mina (Port) Zayed, Khalifa Port, Kizad, Port Rashid, Jebel Ali Port, DP WORLD, Jebel Ali Free Zone, Khor Fakkan Container Terminal, Port Rashid, Jebel Ali Port, Mina Kalid Port, Khor Fhakan Port ( Khawr Fakkan, Khawr al-Fakkan ), Sharjah Creek, Ajman, Port of Hamriyah, Mina Zayed Port, Mussafah port, Khalifa Port, Umm al-Nar Port, Um Al Quwain Port, Saqr Port, Port of Fujairah, Dibba Port, Jebel Dhanna, Mina Al Hamriya, Mina Rashid, All United Arab Emirates