Bio degradable NON Hazardous Rust Remover , SUITABLE FOR vertical rust removal,   Its Rust removal solution is safe and non flamable so even it can be ship by air .
Recommended to use a RXSOL ORG - 6 wash after rust removal , to protect FURTHER RUSTING.
For safe and easy removal of rust from iron and steel. RXSOL Jelly is useful for preparing metal surfaces for painting. Paint will adhere better to iron and steel surfaces when cleaned will RXSOL Jelly. It is also an ideal pretreatment for all galvanized surfaces prior to painting.
Product Application:
Directions
For general cleaning of iron and steel, apply full strength with a paint brush, roller or sponge. Allow a dwell time of 5 to 20 minutes depending on the amount of rust to be removed. If heavy encrustations are present, use a wire brush to clean before applying. In severe conditions, it may be necessary to apply RXSOL Jelly several times. If this occurs, allow a longer dwell time, overnight if possible.
Product Note:
Material Safety
This product is for industrial and institutional use only. Corrosive, contains phosphoric acid.
Product Technical Specification:
Technical Information
| | | |
| --- | --- | --- |
| Appearance: Clear Viscous Liquid |   | Solubility: 100% |
| Density: 8.67Lbs./Gal. |   | pH Level: 1 |
| Odor: Mild |   | Rinsing: Complete |
| Flash Point: None |   | Stability: Stable |
| Foaming: Moderate |   |   |
Remarks:
Procedure to remove rust from metal using Rust Stain Remover SAFE JELLY
Step 1
Clean rusty surface by Hard / Metal brush, If Possible.
Step 2
Use protective gloves, long sleeves, pants and safety glasses before opening the can of Rust Stain Remover SAFE JELLY.
Step 3
Apply the viscous jelly to the rusty surface by paintbrush until the entire object is coated with the jelly. Then keep Rust Stain Remover SAFE JELLY to react with rust for 10 - 20 Minutes time.
Step 4
Again use hard brush / steel wool on rusted areas to remove the rust. The rust will easily come off as you scrub. If the rust does not come off easily, allow the Rust Stain Remover SAFE JELLY to sit for five additional minutes.
Step 5
Finally rinse or flush  the entire rusted area with tap water.
Step 6
Then to protect from further rusting neutralize the surface by use of RXSOL Alkaline Passivator  RXSOL-19-1521-050 onto the surface of the metal object until it is coated.
Step 7
Scrub the surface of the object with a scrub brush and rinse with water from a garden hose. The RXSOL-19-1521-050 neutralizes the acid and stops it from continuing to act on the metal. Allow the metal object to air dry.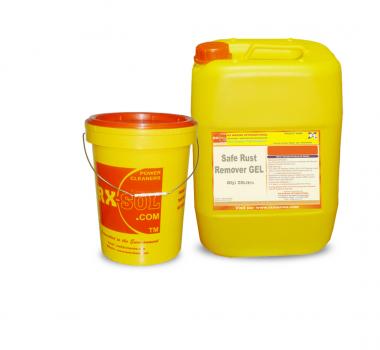 Free Delivery / Supply Locations :
Oman, Bahrain, Abu Dhabi, Ajman, Al Ain, Dubai, Ras Al-Khaimah, Ras al Khaimah, Fujairah, Sharjah, Umm Al Quwain, Fujairah, Ruwais, Mina (Port) Zayed, Khalifa Port, Kizad, Port Rashid, Jebel Ali Port, DP WORLD, Jebel Ali Free Zone, Khor Fakkan Container Terminal, Port Rashid, Jebel Ali Port, Mina Kalid Port, Khor Fhakan Port ( Khawr Fakkan, Khawr al-Fakkan ), Sharjah Creek, Ajman, Port of Hamriyah, Mina Zayed Port, Mussafah port, Khalifa Port, Umm al-Nar Port, Um Al Quwain Port, Saqr Port, Port of Fujairah, Dibba Port, Jebel Dhanna, Mina Al Hamriya, Mina Rashid, All United Arab Emirates