Available Packing Sizes:
Rust Remover available in various size and packing. We are keeping ready stock of rust remover in 25, 50, 210 LTR packing.
Rust Remover manufacturer, supplier and exporter. Rust remover is advanced blend of various acid with additional base and inhibitor. Its powerful chemical rust removal action dissolves rust without any mechanical action. This is the reason why Rust Remover is so popular for removal of rust before painting. 
Product Application:
Very effective products to removes rust and stains also improves metal appearance.
Direction for use
For rust removal the surfaces to be treated should be free form loose materials, flaking paint, dirt or oil. In most cases diluted solution of RXSOL-16-1088-025 , can be applied by brush ranging from 10-50% and left to react for 5 - 40 minutes then  the residues should be rinsed off thoroughly with clean water jet . Smaller objects can be soaked in plastic container. After cleaning, rinse items thoroughly with a water jet.
• For aluminium , only diluted solution up to 10 - 25% can be used and rinse with in 10- 30mins.
• For stainless Steel Disc Cleaning (never use on copper, brass or bronze parts), dilute to 4 - 10 parts water, and immerse from 1 - 3 hours depending on the severity of the job concerned. Cleaning will be accelerated with elevate4d temperatures up to 60°C and agitaion. After cleaning rinse thoroughly with clean water.
For best performance on aluminium use RXSOL Degreaser for degreasing as it has a neutral pH. Paintwork :
RXSOL-16-1011-RR  should be diluted with water  1:4 . Then solution can be applied by brushing, spraying for  10 - 20 minutes the residues should be rinsed off thoroughly with high pressure  water.
 
Product Dose:
On completion of degreasing CLEANING OPERATION if  rust / scale ( water )  stains from metal surface ,use 10 to 50% of RXSOL-16-1088-025 with fresh water for 20 -30 minutes.
Appearance                                  : Clear & Colourless fLiquid
Specific gravity (200C)                 :  1.21
Flash point  cc                              :  None
Note : Also can be used for Disc cleaning without dismantling Disc Stacks 
         : Improves efficiency of centrifuge installation.
Product Note:
RXSOL is pioneer to manufacture Rust Remover. RXSOL brand rust remover is highly concentrated and full strength of material to remove rust from metal surface. Our compnay name is popular as a rust remover supplier in Mumbai, Chennai, Kolkata, Gandhidham, Mundra, Kandla, Sikka, Surat, Goa, Manglore, Vizag - Visakhapatnam, Chennai, Ennore, Haldia, Paradip, Fujairah, Dubai, Sharjah, Abu Dhabi, Middle East, Gulf, Turkey, Istanbul, USA.
Pl. refer this link for our various location details...
you may click below to get all location details :::
For Tamilnadu - http://ennoreindiachemicals.com/contact-us
For Andhra Pradesh - http://vizagchemical.com/contact-us
For East Coastal - http://eastindiachemicals.com/contact-us
For Gujrat Port - http://westindiachemical.com/contact-us
For Mumbai Port -  http://marinechemical.in/contact-us
For JNPT - GOA - Manglore port - http://rxchemicals.com/contact-us
For Middle East - Gulf - http://www.dubichem.com/contact
Product Technical Specification:
Remarks:
This is a well balanced blend of corrosion inhibitors , and surface active highly emulsified acidic materials product for the cleaning of aluminium, copper and removal of rust stains on paint work.
Do not eat, drink or smoke while handling it; wash carefully with soap and water before meals and after work shift as shower is recommended.
R 34    : Causes burns.
S 26    : On contact with eyes,Wash eye ball immediately with plenty of water and seek medical advice.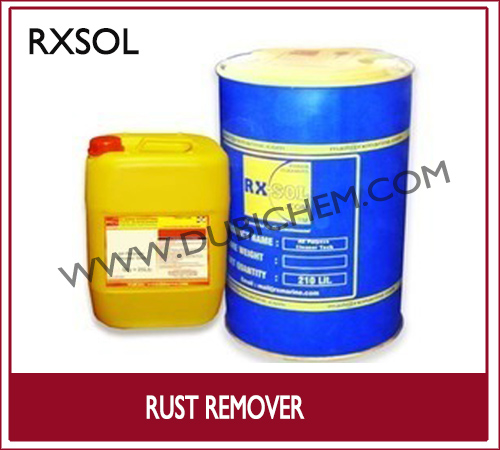 Rust Remover is chemically rust dissolving products which dissolve rust fast and removes tough rust and finally keep surface back to bare metal. Rust remover completely reacts with oxidized iron layers and looses to removes from surface.
#RustREMOVER_Mumbai
#RustREMOVER_Dubai
#RustREMOVER_Chennai
#RustREMOVER_Kolkata
#RustREMOVER_Visakhapatnam
#RustREMOVER_Muscat
#RustREMOVER_Nairobi
Rust Dissolver Cleaning Compound RUST REMOVER cleaning chemicals and Detergent manufacturer and supplier in Mumbai, Kandla, Kolkata, Chennai, Visakhapatnam, Ennore, Kakinada, Hazira, Surat, Haldia, Paradip, Ajman, Abudhabi, Dubai, Sharjah, Fujairah, Ruwi Barka, Muscat Sohar, Oman, Sudan, Yemen, Nairobi Kenya, Canada
Free Delivery / Supply Locations :
Oman, Bahrain, Abu Dhabi, Ajman, Al Ain, Dubai, Ras Al-Khaimah, Ras al Khaimah, Fujairah, Sharjah, Umm Al Quwain, Fujairah, Ruwais, Mina (Port) Zayed, Khalifa Port, Kizad, Port Rashid, Jebel Ali Port, DP WORLD, Jebel Ali Free Zone, Khor Fakkan Container Terminal, Port Rashid, Jebel Ali Port, Mina Kalid Port, Khor Fhakan Port ( Khawr Fakkan, Khawr al-Fakkan ), Sharjah Creek, Ajman, Port of Hamriyah, Mina Zayed Port, Mussafah port, Khalifa Port, Umm al-Nar Port, Um Al Quwain Port, Saqr Port, Port of Fujairah, Dibba Port, Jebel Dhanna, Mina Al Hamriya, Mina Rashid, All United Arab Emirates