This is an inhibitor concentrate/chemical which is added to the cooling water of internal combustion engines in cases in which the coolant does not need to be protected from freezing. It efforts excellent protection against cavitation and corrosion to all metals and alloys that are used in cooling systems.It is especially appropiate for the use in heavy-duty engines such as those used in trucks,  ships and lokomotives.

• High performance corrosion inhibitor
• Being a nitrite free product it is compatible also with zinc - coated piping
• Easy control test with refractometer.
Product Dose:
Dilution with water is usually used, resulting in a freezing point of about −34 °F (−37 °C), depending on the formulation. In warmer or colder areas, weaker or stronger dilutions are used, respectively, but a range of 40%/60% to 60%/40% is frequently specified to ensure corrosion protection, and 70%/30% for maximum freeze prevention down to −84 °F (−64 °C).
Product Technical Specification: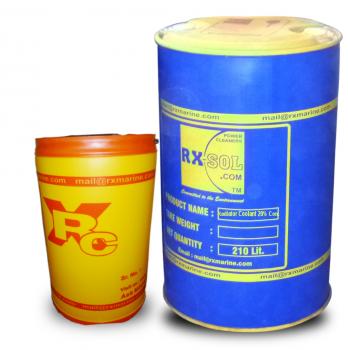 Free Delivery / Supply Locations :
Oman, Bahrain, Abu Dhabi, Ajman, Al Ain, Dubai, Ras Al-Khaimah, Ras al Khaimah, Fujairah, Sharjah, Umm Al Quwain, Fujairah, Ruwais, Mina (Port) Zayed, Khalifa Port, Kizad, Port Rashid, Jebel Ali Port, DP WORLD, Jebel Ali Free Zone, Khor Fakkan Container Terminal, Port Rashid, Jebel Ali Port, Mina Kalid Port, Khor Fhakan Port ( Khawr Fakkan, Khawr al-Fakkan ), Sharjah Creek, Ajman, Port of Hamriyah, Mina Zayed Port, Mussafah port, Khalifa Port, Umm al-Nar Port, Um Al Quwain Port, Saqr Port, Port of Fujairah, Dibba Port, Jebel Dhanna, Mina Al Hamriya, Mina Rashid, All United Arab Emirates