Available Packing Sizes:
The perfect chemical protective suit which will allow free mobility when worn, And extra coated with WAX to increase liquid repulsion properties. Quality is a treat that we appreciate.
Protective suits and its accessories provide full body protection against chemicals handling. Our chemical expert team testing each protective suits before supply to make sure and provide complete, reliable, secure protection. We are keeping ready stock at our all Indian coastal and UAE branches.
Product Application:
Our all selected protective suits follow standard EN943-2,  allowing rescues and other operations in hostile environments with corrosive liquid and gaseous-state chemicals. We are also keeping stock of  complete line of ventilated & non-ventilated
Product Dose:
Selected designed for workers involved in the stripping cleaning of ship cargo and tanks. Ship personnel handling chemicals activity require specialized protective suit which is not only chemicals resistance in nature but also flexible in each and every angle to provide them protection against hazardous liquids and vapors.
Product Note:
Strong protective suit distribution network in Mumbai, Gandhidham, Kolkata, Chennai - Ennore, Visakhapatnam, Fujairah, Dubai.
Product Technical Specification:
Full-body coverage with protective clothing wear and tear suits, Unreactive against corrosive liquid. Used with a gas mask in non-dangerous atmospheres contaminated with dust, powders, fumes etc... Technical Reusable Workwear protective SUIT.
Remarks:
Various colour with standard size.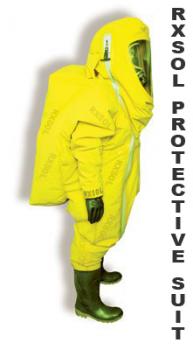 RXSOL-64-2623-001 is a selected model one piece gas-tight chemical protective suit. Most preferable protective suit by Ship Personnel in respect of Superior protection · Professional assistance · Comfortable durability as our long-time experience in chemicals with shipping industries enable to select perfect chemical protective suit which will allow free mobility when worn.
Chemical protective clothing can be used for work to handle gaseous, liquid and particulate harmful chemical substances of acids, alkalis, organic chemicals and other chemicals, and it is used to prevent permeation and penetration of the harmful chemical substances.
During Ship Hold Cleaning and Tank cleaning process responders require maximum protection. In general, those who don't have knowledge of chemicals and its effect can supply any suits available in the market which may not resist chemicals and its effect during operation. So always prefer the suitable chemical resistance protective suit to stand against chemicals atmosphere.
Free Delivery / Supply Locations :
Oman, Bahrain, Abu Dhabi, Ajman, Al Ain, Dubai, Ras Al-Khaimah, Ras al Khaimah, Fujairah, Sharjah, Umm Al Quwain, Fujairah, Ruwais, Mina (Port) Zayed, Khalifa Port, Kizad, Port Rashid, Jebel Ali Port, DP WORLD, Jebel Ali Free Zone, Khor Fakkan Container Terminal, Port Rashid, Jebel Ali Port, Mina Kalid Port, Khor Fhakan Port ( Khawr Fakkan, Khawr al-Fakkan ), Sharjah Creek, Ajman, Port of Hamriyah, Mina Zayed Port, Mussafah port, Khalifa Port, Umm al-Nar Port, Um Al Quwain Port, Saqr Port, Port of Fujairah, Dibba Port, Jebel Dhanna, Mina Al Hamriya, Mina Rashid, All United Arab Emirates