Oil spill absorbents are designed to Clean up leakage  and spill oil easily and scientifically.  Oil Absorbing Mats also helps to protect surface finishing and machinery contaminaion by holding excess of OIL. Each oil spill absorbents rag is made of pure polypropylene fiber and celluslose.
Product Application:
Chemicallhy spill absorbent pads are designed for cleaning up oil spills.
Product Dose:
These absorbent pads absorbs quickly heavy-duty solution to absorbing oil spills quickly and effectively. Each pad absorbs a full litre of spilt oil . Oil spill absorbents are designed to absorb petroleum, hydrocarbons and oil through oil pads for spills for marine use.
Product Note:
Oil Spill absorbent pads are white in colour. 
Fluids Absorbed: Oil, Water, Chemicals
GSM: 50-1000
Physical State: Solid
Usage/Application: Spillage, containment
Product Technical Specification:
Usage: Industrial, Personal, Laboratory
Application: Industry
Color: White
Type: Absorbents
Absorbency 1 to 1.2 litres per pad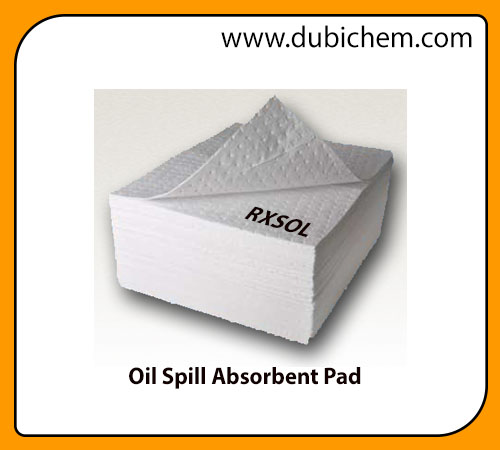 Oil Absorbent pad is classified in these category-
Spill Control Equipment
Spill Kit
Chemical Spill Kit
Parts of Spill Booms / Oil Absorbent Boom
Spill Response Kits
Oil Absorbent
Chemical Absorbent
Liquid Absorbent
Oil Spill absorbent pads manufacturer and supplier in SURAT, Mumbai, Navi Mumbai Rabale MIDC, Kolkata, Haldia, Chennai Ennore, Visakhapatnam, Fujairah, Sharjah, Dubai, Abudhabi, Ajman, Muscat Barka Sohar Oman
Free Delivery / Supply Locations :
Oman, Bahrain, Abu Dhabi, Ajman, Al Ain, Dubai, Ras Al-Khaimah, Ras al Khaimah, Fujairah, Sharjah, Umm Al Quwain, Fujairah, Ruwais, Mina (Port) Zayed, Khalifa Port, Kizad, Port Rashid, Jebel Ali Port, DP WORLD, Jebel Ali Free Zone, Khor Fakkan Container Terminal, Port Rashid, Jebel Ali Port, Mina Kalid Port, Khor Fhakan Port ( Khawr Fakkan, Khawr al-Fakkan ), Sharjah Creek, Ajman, Port of Hamriyah, Mina Zayed Port, Mussafah port, Khalifa Port, Umm al-Nar Port, Um Al Quwain Port, Saqr Port, Port of Fujairah, Dibba Port, Jebel Dhanna, Mina Al Hamriya, Mina Rashid, All United Arab Emirates