Available Packing Sizes:
Export quality customized packing of MEG - Mono Ethylene Glycol available with us in 5, 20, 25, 50, 210 Ltrs. In-house laboratory testing facility has given us an opportunity to share all required test to our customer. You may click on this link to get our BRANCH details - http://rxmarine.com/where-to-buy
Mono Ethylene Glycol supplier and exporter.
Product Application:
MONO Ethylene Glycol - HSN code is 29053100
Product Dose:
We are keeping ready stock of Mono Ethylene Glycol, Di-Ethylene Glycol & Tri Ethylene Glycol at our distribution network in INDIA and Middle East.
Product Technical Specification:
MONO ETHYLENE GLYCOL
Test
Typical Value
Test Method

Distillation Range °C
     DP, Min.
     DP, Max.


194°
205°


ASTM D-1078

Moiture Content % wt. Max.

0.2

ASTM E-203

Acidity as Acetic acid % wt. Max.

0.005

ASTM D-1613

Iron Cotent, ppm Weight Max.

0.2

ASTM E-202

Chloride as CI ppm, Weight Max.

0.2

SD A-167

Ash % Weight Max.

0.005

ISI 5295

DEG, % Weight Max.

0.2

SD-498

Colour (Pt. Co. scale) Max.

10

ASTM D-1209
Remarks:
MONOEthylene Glycol



Physical Properties



Physical Properties (1)



Monoethylene Glycol :MEG



Formula : C2H6O2



CAS Number : 107-21-1



Molecular Weight, g/mol : 62



Boiling Point @ 760 mm Hg, °C (°F) : 197 (387)



Vapor Pressure at 20°C (68°F) mm Hg : 0.06



Density, (g/cc) @ 20°C (68°F) : 1.115



Density, (g/cc) @ 60°C (140°F) 1.096 : 1.085



Pounds Per Gallon @ 25°C (77°F) : 9.26



Freezing Point, °C (°F) : -13.4 (7.9)



Pour Point, °C (°F) : 



Viscosity, cP @ 25°C (68°F) : 16.9



Viscosity, cP @ 60°C (140°F) : 5.2



Surface Tension, dynes/cm @ 25°C (77°F) : 48



Refractive Index @ 20°C (68°F) : 1.430



Specific Heat @ 25°C (77°F) Btu/lb/°F : 0.58



Flash Point, °C (°F) : 116 (241) (2)



Dipole Moment in Debyes : 2.28



Coefficient of Expansion x 104 (0-60°C) : 6.5



Thermal Conductivity, Btu hr-1 ft-1 °F-1 25°C (77°F) : 0.1490



Thermal Conductivity, Btu hr-1 ft-1 °F-1 25°C (77°F) : 0.1490



Heat of Formation, Btu/lb@ 25°C (77°F) : -93



Heat of Vaporization, Btu/lb@ 25°C (77°F) : 369



Electrical Conductivity, mhos/cm,@20°C : 1.07 x10-6 (3)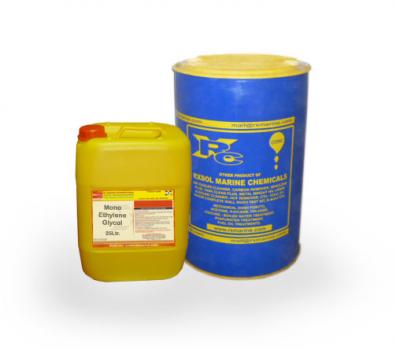 MEG Mono Ethylene Glycol supplier and exporter in UAE GULE OMAN. Also we are one of popular MEG Glycol supplier in Dubai, Sharjah, Abudhabi, Ajman, UAE, Muscat, Sohar, Barka Oman, And Mumbai, Gandhidham, Chennai, Visakhapatnam, Kolkata, Manglore
Free Delivery / Supply Locations :
Oman, Bahrain, Abu Dhabi, Ajman, Al Ain, Dubai, Ras Al-Khaimah, Ras al Khaimah, Fujairah, Sharjah, Umm Al Quwain, Fujairah, Ruwais, Mina (Port) Zayed, Khalifa Port, Kizad, Port Rashid, Jebel Ali Port, DP WORLD, Jebel Ali Free Zone, Khor Fakkan Container Terminal, Port Rashid, Jebel Ali Port, Mina Kalid Port, Khor Fhakan Port ( Khawr Fakkan, Khawr al-Fakkan ), Sharjah Creek, Ajman, Port of Hamriyah, Mina Zayed Port, Mussafah port, Khalifa Port, Umm al-Nar Port, Um Al Quwain Port, Saqr Port, Port of Fujairah, Dibba Port, Jebel Dhanna, Mina Al Hamriya, Mina Rashid, All United Arab Emirates