Available Packing Sizes:
5, 10, 20, 25, 50, 210 Ltr packing.
A highly concentrated liquid organic synthetic detergent. It is well balanced blend of  nonionic, anionic and amide compound with effective soil releasing agents.
Product Application:
A liquid detergent for washing tableware and kitchen utensils.Formulated to cut greasy stains in a wide range of conditions including hard water.Soft and mild on the hands.
 
Product Note:
Why .... RXSOL Liquid Soap is better ....  than .... any others ?
RXSOL Liquid Soap is manufactured under Quality-Control-System.
There are generally used SALT ( Sodium Chloride ) in Local Market , which is dangerous for cleaning due to high Chloride  value . In General market availability of  local products' Chloride value is crossing sometimes 200 PPM whereas scientifically, maximum Chloride limit is 5 PPM.
RXSOL Liquid Soap is blended  of selected Long-chain-polar surfactant.
RXSOL Liquid Soap has low Foam due to advance technique whenever others have high Foam resulting to waste our precious water and more time .
Any liquid has bacterial & fungal growth nature due to lack of Preservative . Generally no one use Preservative to avoid such growth. You may ask your other supplier , " which Preservative do you use to stop the growth of Bacteria, Algae, etc. ? "The growth of  bacteria makes your liquid solution highly poisonous which may cause many disease to us. Our   RXSOL - Liquid Soap is blend of Preservative to stop such growth.
Product Technical Specification: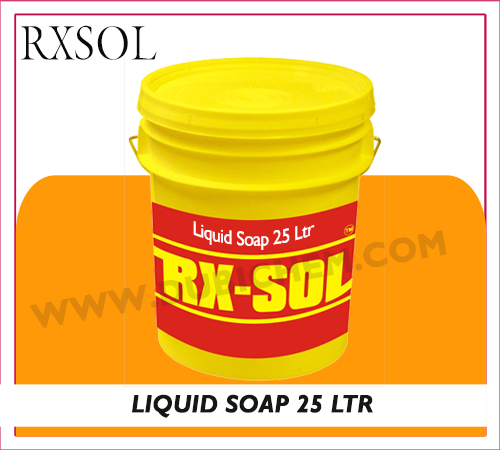 Liquid detergent, Liquid Soap manufacturer and supplier.
Liquid soap supplier in Mumbai, Kandla, Surat, Salaya, Navlakhi, Manglore, Chennai, Ennore, Visakhapatnam, Gangavara, Kolkata, Haldia, Paradip, Fujairah, Dubai, Sharjah, Abudhabi.
Free Delivery / Supply Locations :
Oman, Bahrain, Abu Dhabi, Ajman, Al Ain, Dubai, Ras Al-Khaimah, Ras al Khaimah, Fujairah, Sharjah, Umm Al Quwain, Fujairah, Ruwais, Mina (Port) Zayed, Khalifa Port, Kizad, Port Rashid, Jebel Ali Port, DP WORLD, Jebel Ali Free Zone, Khor Fakkan Container Terminal, Port Rashid, Jebel Ali Port, Mina Kalid Port, Khor Fhakan Port ( Khawr Fakkan, Khawr al-Fakkan ), Sharjah Creek, Ajman, Port of Hamriyah, Mina Zayed Port, Mussafah port, Khalifa Port, Umm al-Nar Port, Um Al Quwain Port, Saqr Port, Port of Fujairah, Dibba Port, Jebel Dhanna, Mina Al Hamriya, Mina Rashid, All United Arab Emirates