RXSOL-16-1501-035 is a biodegradable and surfactant base liquid detergent designed to remove grease and oils  from dishes , Utensils and Glassware while remaining gentle on the hands. Liquid  Detergent provides long-lasting suds while soaking dishes clean and rinses freely without streaking or spotting. by Cleaning the job of high pressure cleaning can be clean the floor and other oily and greasy surface. RXSOL-16-1501-035  is a superior & powerful  cleaner containing corrosion inhibitors to prevents the corrosion of metals .It is low toxic product with an exceptional solvency power on soil & oily matter & having good foaming qualities .It is free from Hydrocarbon solvents, Biodegradable and minimizes the extreme hazards to personnel in handling materials.
Product Application:
RXSOL-16-1501-035 Liquid Detergent Suitable for cleaning Dish , Utensils, Glassware , engine components like fuel and Lube oil filters, Injection nozzles, pump components, inlet and exhaust valves & primarily refers to cleaning of hard surfaces, such as Decks, Tanks, Engine rooms ,etc. can be used for all types of cleaning and degreasing and may be applied by brush ,hand spray ,high and low pressure washing machines etc.
Due to high solvency power this is also suitable for wash down. The wash down begins, the chemicals penetrates & thoroughly moistens dirt & other grime. During wash down, the RXSOL-16-1501-035 thoroughly dissolves the particles of dirt, even oil and fat, in the water spray and thus achieves optimal cleaning results. In addition to being more effective, the use of RXSOL-16-1501-035 substantially reduces the time required for the Cleaning operation, as well as preventing dirt from reforming on the surface. The RXSOL-16-1501-035 is providing the shining on the surface after cleaning.
Product Dose:
Directions for Use and Dose Rates General Cleaning
The use of RXSOL-16-1501-035 for cleaning of utensils and other surface in correct dosages is half the job done. 3 Pieces of Good Advice .Apply RXSOL-16-1501-035 on dry surface where possible. A dry surface will absorb far better than a wet surface. When applying RXSOL-16-1501-035 on vertical surfaces: Start application from the bottom and work upwards! If beginning from the top and going downwards, the RXSOL-16-1501-035 may produce "channels" down the surface, thereby running too fast off the surface.
For cleaning hard surface by high pressure cleaning; It is important that the rinsing water does not run over non-cleaned surface. The rinsing water can draw soap from the surface if running over non-cleaned surfaces. High pressure together with optimum concentration of RXSOL-16-1501-035 will  give  the  best  effect on hard surface.
Dose :
FOR DISHES, GLASSWARE AND UTENSILS: Use 25-50 ml per sink full of water and permit water to run with force until sink is filled to usual level. Wash dishes, rinse and permit to air dry. It is not necessary to wipe as both dishes and glasses will dry to a spot free sparkle. Removes lipstick from glasses without effort. Will not affect head on beer. OR
RXSOL-16-1501-035 should be mixed with  water at a rate of 50-200 ml per 10 litres.i.e.1cup of RXSOL-16-1501-035 to a bucket of water. RXSOL-16-1501-035 solution can be applied simply by hand, automatic dish washer machine ,mops, brushes or rags, or by dipping the soiled articles into the RXSOL-16-1501-035  solution. After cleaning, rinse off with cold or warm water.
Product Note:
INGREDIENTS

Powder for machine

Dishwashing liquid

Fine fabric hand wash (liq)

Surfactants

 

14% C12 LAS

24% C12 LAS

15% C12 LAS

 

3% Alcohol + 6EO

5% C12 Sulfate

10% C12 ether Sulf.

Foaming agent

 

5% Coco amide

5% C12 DEamide

Antifoaming

3% C18 soap

 
 

Hydrotope

 
 

Builder

48% STP

 

15% C12 Sulfobetaine

Alkaline

10% Na Silicate

 
 

Salts

13% Na Sulfate

 
 

Antiredeposition

0,3% CMC

 

0,5% CMC

Other

 

1% latex

 

Water

 

60% with 5% ethanol

55% with 4% urea 
Characteristics:
Removes grease, oil, carbon deposits, soil and grime.
Keeps loosened deposits in suspension preventing re-deposition.
Low toxic.
Biodegradable.
Non-flammable.
Free from hydrocarbon solvents.
Effective and economical in use
Water-based cleaner.
RXSOL-16-1501-035 has numerous cleaning applications including removal of greases, waxes,oil, sludge, soot, carbon deposits and general dirt and grime.
Non-corrosive to ferrous metals
Suitable for all tank-coatings.
Can be used for gas and hydrocarbon freeing of tanks.
Can be used for deodorizing.
Contains wetting agents.
Leaves surfaces residue free.
Acceptable for use in food areas.
Suitable for accommodation cleaning of woodwork, leather, desks, etc.
Suitable for cleaning of toilets and showers.
Suitable for cleaning of reefer boxes.
Can be used for cleaning of windows and portholes.
Can be used for cleaning of dishes.
Can be used for cleaning of hospitals.
Can be used for hand laundry cleaning.
Product Technical Specification:
Product Properties:
| | |
| --- | --- |
| Appearance | Clear Liquid |
| Odor | Perfumed |
| pH | 7.5 - 8.0 |
| Foam | High and stable |
| Abrasives | None |
| Solubility | Complete with water |
| Emulsification of oil and grease | Excellent |
| Detergency | Excellent |
| Risibility | Excellent |
| Flash Point | None (water based) |
| Biodegradability | Complete |
| Storage/Stability/ Shelf Life | 5 Years. |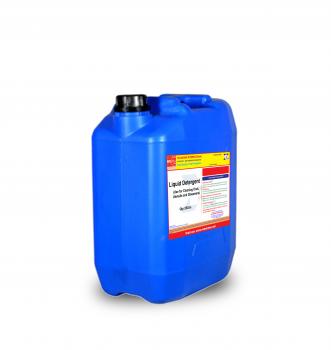 Free Delivery / Supply Locations :
Oman, Bahrain, Abu Dhabi, Ajman, Al Ain, Dubai, Ras Al-Khaimah, Ras al Khaimah, Fujairah, Sharjah, Umm Al Quwain, Fujairah, Ruwais, Mina (Port) Zayed, Khalifa Port, Kizad, Port Rashid, Jebel Ali Port, DP WORLD, Jebel Ali Free Zone, Khor Fakkan Container Terminal, Port Rashid, Jebel Ali Port, Mina Kalid Port, Khor Fhakan Port ( Khawr Fakkan, Khawr al-Fakkan ), Sharjah Creek, Ajman, Port of Hamriyah, Mina Zayed Port, Mussafah port, Khalifa Port, Umm al-Nar Port, Um Al Quwain Port, Saqr Port, Port of Fujairah, Dibba Port, Jebel Dhanna, Mina Al Hamriya, Mina Rashid, All United Arab Emirates