Available Packing Sizes:
Lime Scale remover packing 5, 10, 25, 50, 210 Ltr
KITCHEN & BATHROOM CLEANER , lime eater dissolves hard and old lime scale deposits from your appliances. It extends the life of the appliance and saves running cost. It can be used in appliances such as Washing Machines, Dish Washers, Geysers, Steam Iron, Coffee Makers, Bath Tubs, Bathroom Fixtures etc.
It is a blend of surfactants, chelating agent, organic thickener, quaternery halide, phosphoric acid and perfume.
It is the ultimate in washroom cleaning and can be used on toilets, sinks and showers without fear of damage to the finish on stainless steel.
It is excellent for use on terazzo and quarry tiled floors, leaving all areas fresh, gleaming and clean.
It does not contain any harsh abrasives and afteruse leaves a pleasent fragrance.
Product Application:
The correct quantities of RXSOL-11-1052-025 requirement for descaling will depend upon the character and thickness of scale deposits.  For regular de-scaling of dish washing machines prepare a 2 – 4% solution with cold water, and fill the tank just below the overflow level, heat the mixture and allow to run machine until lime scale deposits disappear.   Apply full strength to highly contaminated  areas where spray does not reach.  Drain the tank and fill with cold water and run the machine for 5 minutes and flush with water until the outlet water shows neutral  pH.  Good results are obtained when descaling is done at 60 Deg. C.
Dip tank method can be used for brightening aluminum, stainless steel equipments and utensils.  Prepare a 3 – 5% solution of RXSOL-11-1052-025   with water and soak the utensils for a while to obtain a bright surface.  Wash thoroughly with cold water and rinse dry.
Product Dose:
Kettle De scalling procedure :::
Use instructions
1. Fill 3/4 parts of  kettle with water  and makes it boil fully , then disconnect heating procedure before going to 2nd step.
2. Add amount of RX 8 and leave to work. ( doses can vary on deposition of scale, For general and routine cleaning add 3 - 5% )
3. After cleaning effect flush / wash with fresh water.
4. Extra cleaning can be repeated with once more Boil water without addition of RX8 and pour away before using again. 
Product Note:
RXSOL-11-1052-025 is a mild descaling liquid suitably designed to remove lime, food films and water scales from metallic and plastic surfaces in food processing operations.  It attacks the built up calcium, magnesium or iron scales instantly and removes the scales.  It finds extensive applications in de-liming machines, steam tables, cleaning stainless steel and iron equipments, floors, shower stalls, tiles, walls or any surface to be cleaned from scale deposits.  It contains a mixture of liquid acids inhibited to arrest its attack on metals.  It will not attack plastic, hard metal or any other surfaces, if used as directed. 
Product Technical Specification:
Formic acid is also used in place of mineral acids for various cleaning products such as limescale remover and toilet bowl cleaner. 
Remarks:
Precaution to be taken while using in non-anodized aluminum.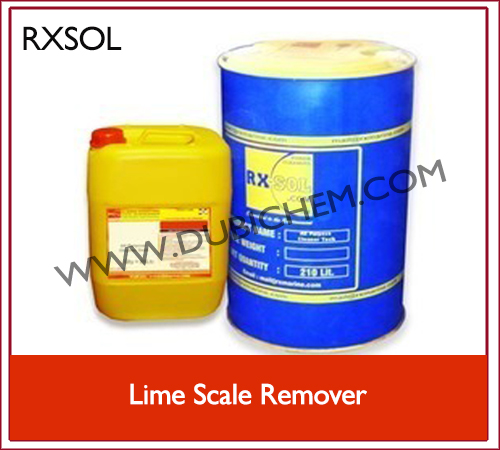 Suggestion ::: Our daily descaling works helps to share helpful tricks to dissolve hard scale easily, Always use 5-10 %  our new generation hard scale deposit remover powder RXSOL-11-1102-025 . Addition of RXSOL-11-1102-025 helps to clean 100% scale from system .
Lime Scale Remover manufacturer and supplier in Muscat Oman, Fujairah, Dubai, Abudhabi, Sharjah, Ajman, Diera, Sharjah, Mumbai, Navi Mumbai MIDC, Taloja MIDC, Rabale, Koparkhairna, Turbhe Pawana MIDC, Gandhidham GIDC, Surat, Jamnagar, Gujarat, CHENNAI ennore, Kakinada, Visakhapatnam, Andhraparadesh, Kolkata, Howrah, West Bengal, Munger, Ranchi, Tata, Patna, Vanarash, Uttar Pradesh.
Free Delivery / Supply Locations :
Oman, Bahrain, Abu Dhabi, Ajman, Al Ain, Dubai, Ras Al-Khaimah, Ras al Khaimah, Fujairah, Sharjah, Umm Al Quwain, Fujairah, Ruwais, Mina (Port) Zayed, Khalifa Port, Kizad, Port Rashid, Jebel Ali Port, DP WORLD, Jebel Ali Free Zone, Khor Fakkan Container Terminal, Port Rashid, Jebel Ali Port, Mina Kalid Port, Khor Fhakan Port ( Khawr Fakkan, Khawr al-Fakkan ), Sharjah Creek, Ajman, Port of Hamriyah, Mina Zayed Port, Mussafah port, Khalifa Port, Umm al-Nar Port, Um Al Quwain Port, Saqr Port, Port of Fujairah, Dibba Port, Jebel Dhanna, Mina Al Hamriya, Mina Rashid, All United Arab Emirates