RXSOL-22-3005 is special type of cleaner specifically formulated for use with high pressure advanced technology cleaning machine. copmpatible with most painted surface and dries leaving a good shine.
Product Application:
Quickly dissolves and removes grease and dirt deposits after emulsfication. Economical - dilute for most cleaning needs.
Highly Conc. liquid Detergent Specialized for High Pressure Washing Machines
This type of cleaner specifically formulated for use with high pressure advanced technology cleaning machines. RXSOL-22-3005  is concentrated liquid formulation of a non-caustic alkaline cleaner with emulsifier, detergents ,  Surfactants, Corrosion  inhibitors, Rust  preventive.  Due to free from  caustic  very  gentle on hands . RXSOL-22-3005 quickly dissolves and remove  grease and dirt deposits after emulsification . Compatible with most painted surfaces and dries leaving a good shine.
Product Dose:
Dilute 0.3 to 5% of solution with fresh water.
Economical Usage:-
Dilute the concentrate RXSOL-22-3005  with fresh water between 0.3 to 5 % ratio , then spray the solution on surface to be clean  , for heavily soiled areas , a preliminary cleaning is required. Allow solution to penetrate soil for for complete emulsification about 3-5 minutes before washing off thoroughly with high pressure water. 
GENERAL WASH:-
Dilute 1 part concentrate to 5 parts water or up to 20 parts water depends on contamination of deposit 
RXSOL-22-3005can be used for conventional cleaning using brush, rag or spray . Allow solution 3-5 minutes for emulsification, then rinse off with water .
Product Note:
Bio-degradable and eliminates the need to buy and stock duplicate products because of its effectiveness in all areas. 
Product Technical Specification:
Product Properties

 

Characteristics

APPEARANCE

Grennish liquid

Versatile for multi purpose cleaning.

DENSITY

In g/cm3 : 1.1 at 15°C

Cuts through heavy grease and grime 

COMPATIBILITY

 

Economical – dilute for most cleaning needs 

Metal

Avoid contact with aluminium, zinc,

tin and their alloys. In concentrated stage . 

Formulated for use with High Pressure cleaning machines.                         Non-flammable.

Rubber

May swell

Suitable with hot or cold high pressure eqp. 

pH Neat

13 - 14

Free from caustic . 

PACKAGING

RXSOL HP 3005 20/25/35/210 Lts

cleaning of cargo holds, tanks and refrigeration vessels. fishing vessels holds and machinery
Note:- After cleaning affects shining property. Can be used for cleaning of outside paintwork and decks .
  **Read the Material Safety Data Sheet before using this product**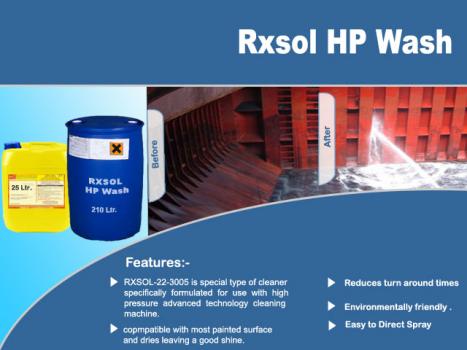 Suitable hold cleaner plays important role to clean ship hold on time. Slection of cleaner always be wise decision to save time and perfectness on cleaning.  ALKAATUFF Ship Hold Cleaner - Alkaatuff is one of popular high foam alkaline cleaner which is also treated as versatile cleaner as well as plays role to neutralize acidic residue created by cargo on contact with moisture. Cement remover is also specialized product for cement wash, coal remover, lime remover, Bilge coat, Gypsum remover, PCS hold clean, Holdbrite, Muriatic Acid, Sodium Hypo Chlorite, Pet coke remover, Ship PolyCoat SPC Hold Block etc... Some times we observed that presence of RXSOL NEW ORG on board also plays important role to degrease oil and soiled mass from surface. And Metal Clean Bright helps to remove rust from open hold surface area and also effective to dissolve rust stain from painted surface.
Ship Cargo Hold Product

Product Cleaning Nature

Order

Popular Most Common Product

Sulphur

Alkaline Cleaner

 

Anthracite - Hard Coal 

Alkaline Cleaner

 

Bauxite

Acidic Cleaner

 

Bentonite

Alkaline Cleaner

 

Chrome Ore

Alkaline Cleaner

 

Clay

Alkaline Cleaner

 

Dolomite

Alkaline Cleaner

 
Fluorspar - Calcium Fluoride, Fluorite
Alkaline non foaming cleaner
 
Aquabreak PX + High Foam Agent
Gypsum - Calsium Sulfate, Mineral White
Acidic Cleaner
 
Metal Clean Bright
Iron Ore Pellets
Acidic Cleaner
 
Metal Clean Bright
Lime Sand, Lime Stone, Calcium Carbonate
Lime Dissolving Chemicals
 
LIME REMOVER
Magnesite Magnesium Carboante
Acidic Cleaner
 
Metal Clean Bright
Magnetite IRON BLACK
Alkaline Cleaner
 

ALKAATUFF

High Foam CLEANER
Magnese Ore
Alkaline Cleaner
 

ALKAATUFF

High Foam CLEANER
Zinc
Alkaline Cleaner
 

ALKAATUFF

High Foam CLEANER
Lead
Alkaline Cleaner
 

ALKAATUFF

High Foam CLEANER
Copper
Alkaline Cleaner
 

ALKAATUFF

High Foam CLEANER
Pyrite Iron Disulfide, Iron Pyrite, Pyrox
Alkaline Cleaner
 

ALKAATUFF

High Foam CLEANER
Phosphate Rock
Alkaline Cleaner
 

ALKAATUFF

High Foam CLEANER
Quartz, Silicone Dioxide, stone
Alkaline Cleaner
 

ALKAATUFF

High Foam CLEANER
Talk, Magnesium Talc, Soapstone
Alkaline Cleaner
 

ALKAATUFF

High Foam CLEANER
Vanadium Ore
Alkaline Cleaner
 

ALKAATUFF

High Foam CLEANER
Aluminum Dross
Alkaline non foaming cleaner
 
Aquabreak PX + High Foam Agent
Ferro Alloys
Acidic Cleaner
 
Metal Clean Bright
Granulated Slag
Acidic Cleaner
 
Metal Clean Bright
Hot Briquetted Iron HBI
Acidic Cleaner
 
Metal Clean Bright
Magnesite, Magnesium Oxide
Acidic Cleaner
 
Metal Clean Bright
Millscale Iron ORE
Acidic Cleaner
 
Metal Clean Bright
PIG IRON
Acidic Cleaner
 
Metal Clean Bright
Zinc Ashes
Alkaline non foaming cleaner
 
Aquabreak PX + High Foam Agent
Zinc Dross
Alkaline non foaming cleaner
 
Aquabreak PX + High Foam Agent
Zinc Residues
Alkaline non foaming cleaner
 
Aquabreak PX + High Foam Agent
Brown Coal Briquettes, Lignite Brown Coal briquetties
Alkaline Cleaner
 

ALKAATUFF

High Foam CLEANER
Calcined Petroleum Coke
Alkaline Cleaner
 


ALKAATUFF

High Foam CLEANER
Coal, COKE, Petcoke - Petroleum coke
Alkaline Cleaner
 


ALKAATUFF

High Foam CLEANER
Castor Beans
Alkaline Cleaner
 


ALKAATUFF

High Foam CLEANER
Copra Dry
Alkaline Cleaner
 

ALKAATUFF

High Foam CLEANER
Fish Meal
Alkaline Cleaner
 


ALKAATUFF

High Foam CLEANER
Peat Moss
Alkaline Cleaner
 

ALKAATUFF

High Foam CLEANER
Seed Cake, Solvent Extracted
Alkaline Cleaner
 


ALKAATUFF

High Foam CLEANER
Soya Beans
Alkaline Cleaner
 


ALKAATUFF

High Foam CLEANER
Sunflower Seed
Alkaline Cleaner
 


ALKAATUFF

High Foam CLEANER
Wheat
Alkaline Cleaner
 


ALKAATUFF

High Foam CLEANER
CEMENT
Acidic Cleaner
 
Cement Remover
Cement Clinker
Acidic Cleaner
 
Cement Remover
Fly Ash
Alkaline Cleaner
 

ALKAATUFF

High Foam CLEANER
 
 
 
 
Free Delivery / Supply Locations :
Oman, Bahrain, Abu Dhabi, Ajman, Al Ain, Dubai, Ras Al-Khaimah, Ras al Khaimah, Fujairah, Sharjah, Umm Al Quwain, Fujairah, Ruwais, Mina (Port) Zayed, Khalifa Port, Kizad, Port Rashid, Jebel Ali Port, DP WORLD, Jebel Ali Free Zone, Khor Fakkan Container Terminal, Port Rashid, Jebel Ali Port, Mina Kalid Port, Khor Fhakan Port ( Khawr Fakkan, Khawr al-Fakkan ), Sharjah Creek, Ajman, Port of Hamriyah, Mina Zayed Port, Mussafah port, Khalifa Port, Umm al-Nar Port, Um Al Quwain Port, Saqr Port, Port of Fujairah, Dibba Port, Jebel Dhanna, Mina Al Hamriya, Mina Rashid, All United Arab Emirates