Available Packing Sizes:
500 gm , 1 Kg, 3 Kg, 5 Kg.
RXSOL 1001 is a milky white creamy gel containing natural ingredients, moisturisers, surfactants, and powerful dispersing agents. This is a batter substitute to petroleum products & caustic based detergetns which drain the body oil. ONLY 2 TO 5 grams SUFFICIENT to clean most greasy hand.
Product Application:
Ideal for personnel working in metal and chemical Industries, oil fields, ship maintenance, garrage and machine shops as well as in manufacture of Engines & Transmission etc.
Removes the toughest grease tar grime ink paints sealants adhesives and other difficult soils.
It is massaged on to the soiled / greased skin without the use of water. The skin should then either be rinsed with clean water or wiped thoroughly with towel / tissue paper.  it removes even the most stubborn grease and grime thoroughly yet gently. 
 
Characteristics and Advantages
Active substances based on natural vegetable fats of high quality.
Moisturizing.
No added preservatives.
Quick and at the same time gentle skin cleansing in case of heavy profound soilings.
Economical in use.
Long storage life without decrease in quality or viscosity.
Ready stock of  : RXSOL-16-1001
500 gram, 1 kg, 3 kg, 5 kgs
Product Dose:
This is a better substitute of petroleum products & caustic based detergent which drain the body oil . It removes even the most stubborn grease and grime thoroughly yet gently. Multi-purpose heavy duty cleaning agent.
 Normal 2-5 grams is sufficient to apply , but depends on degree of contamination and cleaning required . In hard cleaning repetition may require.
Harmful , If ingested ,induce vomiting and seek medical attention
Product Note:
Avoid contact with wounded skin
Super tough premium industrial waterless hand cleaner gel , uses orange / lemon  peel extract , effectively remove wet paint, printing inks, greases, Oil, Adhesives, grime, Carbon black, glue and several other to remove most stubborn Hand cleaner manufacturer and exporter from India , for Wholesaler and Trader  Greaseless, waterless hand cleaner. ; Fresh orange / lemon scent; Contains no petroleum distillates to dry out skin Hand Cleaner Gel is not flammable and will not burn Doesn't Contains pumice , its unique formulation provide heavy- duty cleaning & deep scrubbing action
Product Technical Specification:
Remarks:
Dissolves grease, paint, ink, grime, dirt, tar and difficult to clean substances. Smooth, gelatin, waterless hand cleaner for engineers.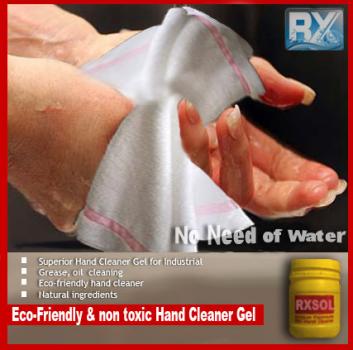 Hand Cleaner Paste Waterless manufacturer supplier distributor in Mumbai, Kandla, Kolkata, Vizag, Chennai, India, Fujairah, Dubai UAE, Muscat Oman, Kenya Africa. Get the best quality of Hand Cleaner Paste Waterless at a competitive price from us. We have ready stock of Hand Cleaner Paste Waterless in India, UAE Gulf, Oman, Kenya Africa. Contact us for bulk as well as small orders.
Free Delivery / Supply Locations :
Oman, Bahrain, Abu Dhabi, Ajman, Al Ain, Dubai, Ras Al-Khaimah, Ras al Khaimah, Fujairah, Sharjah, Umm Al Quwain, Fujairah, Ruwais, Mina (Port) Zayed, Khalifa Port, Kizad, Port Rashid, Jebel Ali Port, DP WORLD, Jebel Ali Free Zone, Khor Fakkan Container Terminal, Port Rashid, Jebel Ali Port, Mina Kalid Port, Khor Fhakan Port ( Khawr Fakkan, Khawr al-Fakkan ), Sharjah Creek, Ajman, Port of Hamriyah, Mina Zayed Port, Mussafah port, Khalifa Port, Umm al-Nar Port, Um Al Quwain Port, Saqr Port, Port of Fujairah, Dibba Port, Jebel Dhanna, Mina Al Hamriya, Mina Rashid, All United Arab Emirates