Available Packing Sizes:
500 GRM, 1 Kg, 5 Kg, 30, 250 Kg
Glycerol is a simple polyol compound. It is a colorless, odorless, viscous liquid that is widely used in pharmaceutical formulations. Glycerol has three hydroxyl groups that are responsible for its solubility in water and its hygroscopic nature.
Product Application:
Pure Vegetable Glycerine is an outstanding moisturizer and skin cleanser that also provides softening and lubricating benefits. It's hypoallergenic and easily soluble in water, making it suitable for use in all of your favorite cosmetic applications. Pure Vegetable Glycerine has a long shelf life and does not easily oxidize. It is a natural product derived from 
Product Dose:

Clear colourless, odorless, syrupy liquid. Combustible and has low toxicity. Extracted from pickel steel, or waste sulfuric acid oxide of titanium. Mainly used for corrosion control of the seawater side of a condenser or for water and sewage treatment.
Glycerol was historically used as an anti-freeze for automotive applications before being replaced by ethylene glycol, which has a lower freezing point. While the minimum freezing point of a glycerol-water mixture is higher than an ethylene glycol-water mixture, glycerol is not toxic and is being re-examined for use in automotive applications
Product Technical Specification:
 PRODUCT NAME    
:
GLYCERINE
 CAS number    
:
56-81-5
 UN number      
:
 
 Formula  
:
C3H8O3
 Odour       
:
ODOURLESS
 Solubility in water    
:
COMPLETE
 Density    
:
1.26    at 20 oC
 Boiling point    
:
290oC
 Melting point    
:
18 oC
Viscosity    
:
2.33 cp at       15 oC
 Flashpoint    
:
160 oC
 Explosive limits    
:
0.9 - ? Vol%
Vapour pressure  
:
.01 mbar at 50 oC
 Skin absorption/irritation    
:
YES
 TLV       Country  NL             Year  1995   
:
ppm                 10        mg/m3
 Pollution category    1994   
:
III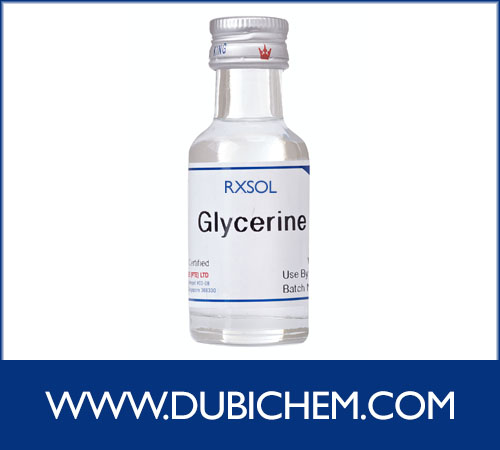 Glycerine manufacturer supplier distributor in Mumbai, Kandla, Kolkata, Vizag, Chennai, India, Fujairah, Dubai UAE, Muscat Oman, Kenya Africa. Get the best quality of Glycerine at a competitive price from us. We have ready stock of Glycerine in India, UAE Gulf, Oman, Kenya Africa. Contact us for bulk as well as small orders.
Free Delivery / Supply Locations :
Oman, Bahrain, Abu Dhabi, Ajman, Al Ain, Dubai, Ras Al-Khaimah, Ras al Khaimah, Fujairah, Sharjah, Umm Al Quwain, Fujairah, Ruwais, Mina (Port) Zayed, Khalifa Port, Kizad, Port Rashid, Jebel Ali Port, DP WORLD, Jebel Ali Free Zone, Khor Fakkan Container Terminal, Port Rashid, Jebel Ali Port, Mina Kalid Port, Khor Fhakan Port ( Khawr Fakkan, Khawr al-Fakkan ), Sharjah Creek, Ajman, Port of Hamriyah, Mina Zayed Port, Mussafah port, Khalifa Port, Umm al-Nar Port, Um Al Quwain Port, Saqr Port, Port of Fujairah, Dibba Port, Jebel Dhanna, Mina Al Hamriya, Mina Rashid, All United Arab Emirates