Water-in-Fuel Emulsion Breaker
Product Description
Gamabreak rapidly breaks water-in-oil emulsions in all grades of fuel. It assists water removal in the settling tank and fuel centrifuges.
Product Properties
Gamabreak breaks water-in-oil emulsions by lowering the surface tension between the two phases. It is insoluble in water and remains effective even after the water has been removed. Powerful dispersants combat existing sludge formations while homogenizing the fuel to prevent new sludge from being formed. Centrifugal separation of catalyst fines is improved, reducing abrasion damage. The homogenizing action of Gamabreak keeps heavy fuel particles in suspension, therefore fuel filters block less frequently, tanks and lines remain cleaner, and in general, fuel systems maintenance is minimized. Consequently, a greater proportion of supplied fuel is available for combustion.
Product Dose:
Direction for Use and Dose Rates
Dose into the bunker tank prior to, or during bunkering. Allow the product to mix well with the fuel. If fuel analysis is available, the dosage should be based on the water content, as per the following table.
Product Note:
Features, Benefits and Applications:-
Rapidly breaks water-in-oil emulsions
Improves separator efficiency
Prevents sludge formation in tanks and lines
Product Technical Specification:
Product Properties:-
| | |
| --- | --- |
| APPEARANCE: | Yellow liquid |
| DENSITY in g/cm3 at 15°C: | 0.9 |
| FLASH POINT (PMCC) °C: | Above 61 |
| COMPATIBILITY: |   |
| Metal: | No known effect |
| Rubber: | May swell |
| Synthetic rubber: | May swell |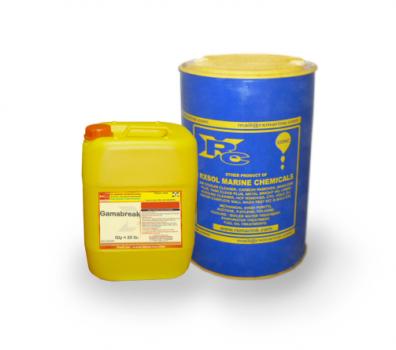 Free Delivery / Supply Locations :
Oman, Bahrain, Abu Dhabi, Ajman, Al Ain, Dubai, Ras Al-Khaimah, Ras al Khaimah, Fujairah, Sharjah, Umm Al Quwain, Fujairah, Ruwais, Mina (Port) Zayed, Khalifa Port, Kizad, Port Rashid, Jebel Ali Port, DP WORLD, Jebel Ali Free Zone, Khor Fakkan Container Terminal, Port Rashid, Jebel Ali Port, Mina Kalid Port, Khor Fhakan Port ( Khawr Fakkan, Khawr al-Fakkan ), Sharjah Creek, Ajman, Port of Hamriyah, Mina Zayed Port, Mussafah port, Khalifa Port, Umm al-Nar Port, Um Al Quwain Port, Saqr Port, Port of Fujairah, Dibba Port, Jebel Dhanna, Mina Al Hamriya, Mina Rashid, All United Arab Emirates