Available Packing Sizes:
De-Icing salt reduces the Melting Point of ICE available in 25 Kg, 50 kg and 1000 Kg Jumbo BAG
DEICING SALT prevents the formation of ice. And usefull products for winter-weather ice removing operations.
Product Application:
De-icing salt also used for other chemical manufacturing, as rock salt for de-icing.
Product Note:
Formic acid also enables rapid and long-lasting deicing agent for runways and roads ::: 
Formates, the salts of formic acid, rapidly remove thin layers of ice and effectively prevent new snow from sticking or a new layer of ice from forming. Also, the waste water polluting effect is much less than that of other deicing agents because of their good biodegradability and low oxygen demand during the breakdown process. Depending on the concentration of the deicing agent, the freezing point is reduced to as much as minus 50 degrees Celsius.
In the past, urea was the preferred deicing agent for airport runways. Because urea has a high impact on the environment, potassium acetate and potassium formate soon replaced urea. In fact, potassium formate is gradually replacing potassium acetate because it is even more efficient and eco-friendly.
Product Technical Specification: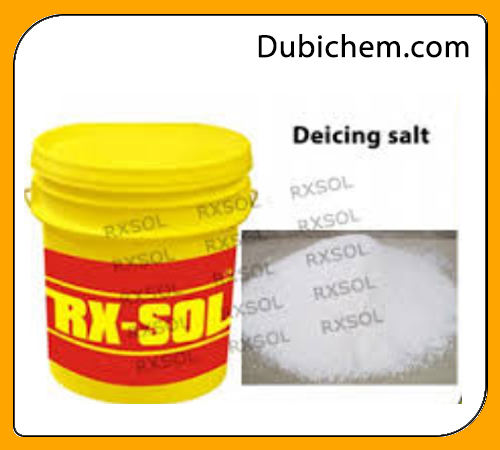 DEICING Salt manufacturer, supplier and Exporter in Mumbai, Kandla, Chennai, Visakhapatnam, Kolkata, Fujairah, UAE Middle East, Dubai, Sharjah, Abudhabi, Muscat, Barka OMAN
Free Delivery / Supply Locations :
Oman, Bahrain, Abu Dhabi, Ajman, Al Ain, Dubai, Ras Al-Khaimah, Ras al Khaimah, Fujairah, Sharjah, Umm Al Quwain, Fujairah, Ruwais, Mina (Port) Zayed, Khalifa Port, Kizad, Port Rashid, Jebel Ali Port, DP WORLD, Jebel Ali Free Zone, Khor Fakkan Container Terminal, Port Rashid, Jebel Ali Port, Mina Kalid Port, Khor Fhakan Port ( Khawr Fakkan, Khawr al-Fakkan ), Sharjah Creek, Ajman, Port of Hamriyah, Mina Zayed Port, Mussafah port, Khalifa Port, Umm al-Nar Port, Um Al Quwain Port, Saqr Port, Port of Fujairah, Dibba Port, Jebel Dhanna, Mina Al Hamriya, Mina Rashid, All United Arab Emirates