CITRIC ACID is a source of hydrogen ions (H+) used to reduce the pH of a drilling fluid. Both liquid and powdered.
Product Application:
| | | |
| --- | --- | --- |
| PRODUCT NAME | : | CITRIC ACID |
| CAS number | : | 77-92-9 |
| UN number | : |   |
| Formula | : | C6H8O7 |
| Odour | : | ODOURLESS |
| Soluble in water | : | APPRECIABLE |
| Density | : | 1.5   at |
| Boiling point | : | oC |
| Melting point | : |   |
| Viscosity | : |   |
| Flashpoint | : |   |
| Explosive limits | : |   |
| Vapour pressure | : |   |
| Skin absorption/irritation | : | YES |
| TLV Country  | : |   |
| Pollution category   1994 | : | D |
Product Dose:
Uses
CITRIC ACID is primarily used as a pH buffer, a low solids, non-dispersed, low pH drilling fluid.
Benefits
CITRIC ACID is primarily used to quickly reduce the pH in  drilling fluid. One of the benefits of using Citric Acid is that it forms Sodium Citrate in the presence of Sodium based polymers such as DMA and OMNIPOL II. Sodium Citrate acts as a dispersant in water based fluids, helping to control the rheology. A third benefit of CITRIC ACID is the reduced hazard to personnel when compared to other acids normally used in drilling applications. CITRIC ACID will not reduce hardness levels in drilling fluids as will phosphoric acid.
Treatment
CITRIC ACID is added through the hopper when using the dry material, and added directly to the drilling fluid when using the liquid. A diaphragm-
metering pump may be utilized with the liquid for continuous
pH control.
Treatment levels vary with the concentration of salts, particularly hydrogen (H+) and hydroxide (OH- ).
Function
CITRIC ACID provides a layer of hydrogen ions around active clays, reducing their zeta potential and thus reducing their ability to imbibe water. This function translates to fewer solids, less swelling of the solids in the drilling fluid, reduced wellbore swelling, and more efficient solids control equipment function. A secondary benefit of CITRIC ACID is the formation of sodium citrate, a thinner. This helps counteract the flocculating influence of the hydrogen ions on first being introduced to the drilling fluid system.
Product Note:
Typical Physical Properties
Physical Appearance………white powder or clear liquid
Specific Gravity……………..1.542
Bulk Density…………………63 lb/ft³
Hygroscopic…………………slightly
pH in water………………….1.87
Safe Handling Recommendations
Utilize normal precautions for employee protection when handling chemical products. Use of appropriate respirator, gloves, goggles, and apron is recommended for employee comfort and protection. See Material Safety Data Sheet (MSDS) for this product prior to use.
Packaging
CITRIC ACID is packaged in 25 kgs multi-wall bags.
Citric Acid in 25 kg bags 
| | |
| --- | --- |
| Application: | Additive for drilling and work over fluids for iron sequestration |
| Scientific name:  | Citric Acid (anhydrous) |
| Appearance:  |  Free flowing white solid crystalline powder |
| Safety, hazard:    |  Non-combustible, toxic fumes |
| Environmental, hazard:     |  Insignificant. Toxic to aquatic life |
| Waste disposal procedures: |  At controlled landfill site |
| Form of supply: |  25 kg bags |
Product Technical Specification:
Information:
DUbi Chem Marine International directly importing superior quality citric acid food grade mono-hydrate and citric acid anhydrous. Stock Chemicals based on Dubai, UAE Citric acid monohydrate, Citric Acid, Sodium Meta Sulphite/Bisulphite/Sulphite; Hydrated Lime; Ascorbic Acid; Ammonium Chloride; Citric Acid (Mono/Anh), Glacial Acetic Acid 99.5% Min. Hydrochloric Acid 33 – 34 % (Membrane Grade) Anhydrous Hydrofluoric Acid 99% etc...
Supplier:
Dubichem Marine International is pioneer to supply Citric Acid in United Arab Emirates. We are classified as a Citric Acid from United Arab Emirates Supplier.
Manufacturer:
CITRIC acid msds, Technical Specification are available through our email dubichem@gmail.com
Exporter:
Citric Acid uses in food and using procedures are available through this link...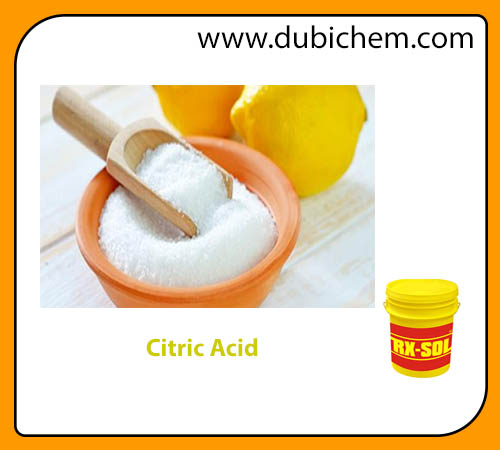 Free Delivery / Supply Locations :
Oman, Bahrain, Abu Dhabi, Ajman, Al Ain, Dubai, Ras Al-Khaimah, Ras al Khaimah, Fujairah, Sharjah, Umm Al Quwain, Fujairah, Ruwais, Mina (Port) Zayed, Khalifa Port, Kizad, Port Rashid, Jebel Ali Port, DP WORLD, Jebel Ali Free Zone, Khor Fakkan Container Terminal, Port Rashid, Jebel Ali Port, Mina Kalid Port, Khor Fhakan Port ( Khawr Fakkan, Khawr al-Fakkan ), Sharjah Creek, Ajman, Port of Hamriyah, Mina Zayed Port, Mussafah port, Khalifa Port, Umm al-Nar Port, Um Al Quwain Port, Saqr Port, Port of Fujairah, Dibba Port, Jebel Dhanna, Mina Al Hamriya, Mina Rashid, All United Arab Emirates