Available Packing Sizes:
5 / 20 / 25 / 35 / 210 Kg
Best and Economical products for Concrete & Brick Sealer for protection of damp and water penetration through brick, cement and concrete. It has a unique action that acts as a one way valve allowing the vapour out but not allowing the water in due to its high water reppellent in nature.
 
Product Application:
The best application for Brick Seal is where faulty guttering or porous brickwork has allowed water to enter the surface.
Just apply 2 coats at 24 hour intervals.
Product Dose:
dilute up to 10 - 25 % with fresh water , before application.
Product Technical Specification:
Remarks:
Avoid contact from SOLVENT after application.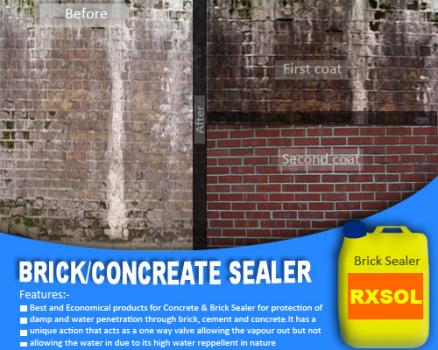 Free Delivery / Supply Locations :
Oman, Bahrain, Abu Dhabi, Ajman, Al Ain, Dubai, Ras Al-Khaimah, Ras al Khaimah, Fujairah, Sharjah, Umm Al Quwain, Fujairah, Ruwais, Mina (Port) Zayed, Khalifa Port, Kizad, Port Rashid, Jebel Ali Port, DP WORLD, Jebel Ali Free Zone, Khor Fakkan Container Terminal, Port Rashid, Jebel Ali Port, Mina Kalid Port, Khor Fhakan Port ( Khawr Fakkan, Khawr al-Fakkan ), Sharjah Creek, Ajman, Port of Hamriyah, Mina Zayed Port, Mussafah port, Khalifa Port, Umm al-Nar Port, Um Al Quwain Port, Saqr Port, Port of Fujairah, Dibba Port, Jebel Dhanna, Mina Al Hamriya, Mina Rashid, All United Arab Emirates