Available Packing Sizes:
100ml, 200ml, 500ml, 1 Ltr.
Product Application:
Boric Acid have antiviral and antifungal properties due to this reason boric acid most commonly used in health sector to treat for yeast infection.
Product Dose:
Boric Acid is acid of Boron

Boric Acid is antiseptic, insecticide, flame retardant, or a neutron absorber, and a precursor of other chemical compounds. 
Product Note:
Boric Acid chemical formula is H3BO3.
Product Technical Specification:
| | |
| --- | --- |
| CAS Number: | 10043-35-3 |
| MDL: | MFCD00011337 |
| Formula: | H3BO3 |
| Formula Weight: | 61.83 g/mol |
Test
Specifications
Appearance (Color)
White to Off-White
Appearance (Form)
Powder
Chloride (Cl)
Phosphate (PO4)
 
Sulfate (SO4)
Calcium (Ca)
Heavy Metals (as Lead)
Iron (Fe)
Recommended Retest Period 2 years
 
Note
ACS tests
 
Assay
 >_ 99.5 %
Insoluble in Methanol
<_>
Nonvolatile with Methanol
<_>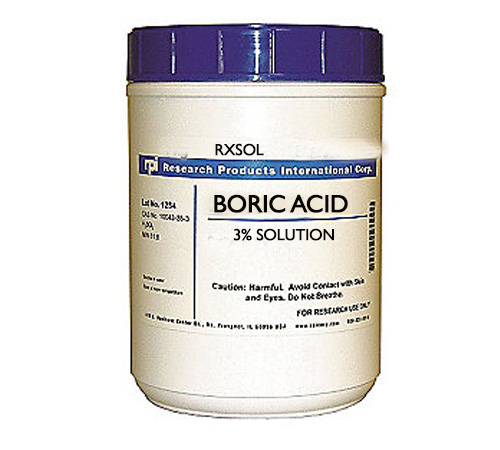 When Glycerol is mixed with Boric acid  complexes with hydroxyl compounds formed. The chemical mechanism of glycerol with boric acid is formation complexes is Three hydroxyl units form an ester and one unit forms a complex bond.
Boric Acid supplier in Mumbai, Gandhidham, Surat, Chennai, Visakhapatnam, Kolkata, Fujairah, Dubai, Sharjah, Abu Dhabi, Muscat, Oman, Kuwait, Syriya.
Free Delivery / Supply Locations :
Oman, Bahrain, Abu Dhabi, Ajman, Al Ain, Dubai, Ras Al-Khaimah, Ras al Khaimah, Fujairah, Sharjah, Umm Al Quwain, Fujairah, Ruwais, Mina (Port) Zayed, Khalifa Port, Kizad, Port Rashid, Jebel Ali Port, DP WORLD, Jebel Ali Free Zone, Khor Fakkan Container Terminal, Port Rashid, Jebel Ali Port, Mina Kalid Port, Khor Fhakan Port ( Khawr Fakkan, Khawr al-Fakkan ), Sharjah Creek, Ajman, Port of Hamriyah, Mina Zayed Port, Mussafah port, Khalifa Port, Umm al-Nar Port, Um Al Quwain Port, Saqr Port, Port of Fujairah, Dibba Port, Jebel Dhanna, Mina Al Hamriya, Mina Rashid, All United Arab Emirates