Available Packing Sizes:
Alkaline Coil Cleaner available in 4 Ltr 5 Ltr, 25 Ltr packing.
Air Cooler Cleaner Alakaline ( Foam N Clean )
Acts as a Condenser Coil Re-Conditioner
Its special penetrating agents quickly emulsify & break up oily grime, dirt and air-borne industrial impurities.
Super high foaming, deodorized, alkaline coil cleaner recommended for cleaning and brightening aluminum finned cooling and heating coils, condensers and evaporators. It's strong foaming action penetrates beneath contamination and pushes dirt and grease from the coil to the outer surface.
Product Application:
Alkaline Coil Cleaner is specially formulated for brightening up all type of aluminum's surfaces and marine alloy or zinc material for surface cleaning, allow 5 to 10 minutes and hose off with pressure water. Recommended for use in air-conditioning repair shops, hospitals, apartment blocks, industrial plants, service companies, leisure complexes, government offices, and any unit, workshop or establishment that maintains or services air-conditioning, supply vessel air-conditioning systems.
Product Dose:
Do not soak overnight with these materials.
Always try small test area at first to determine the best dilution rate for the cleaning.
Economical - Highly concentrated
can beDiluted up to 5 or 10 parts with water
Product Note:
Why RXSOL-16-009-alkis preferred by our CUSTOMER ?
⇔ Reduce air-conditioning cost  by allowing air-conditioning systems and units to run at maximum efficiency , Saves energy costs
⇔ A proper regular maintenance program including the use can substantially lengthen condenser life and save equipment replacement and downtime.
⇔ Cuts quickly through oily grime and Industrial air-borne impurities to restore condenser coils.
⇔ Due to its high penetration effect ,  Agitation or Scrubbing doesn't require
⇔ Simple spray on off operation to restores dirty condenser coils to peak efficiency
 
Characteristics:-
Formulated to remove oil,grease & carbon deposits from air coolers & scavenging system
Efficient and economical.
May be used for in-service cleaning.
Renders surfaces oil-repellent.
Maintains and stabilizes air cooler efficiency at maximum.
Saves time, maintenance costs and avoids risks of damage when dismantling.
Leaves no residue and has no harmful effect on engine.
Product in water solution is non-flammable, non-explosive and has no flash point.
Can be used for light carbon removal from machinery parts
Product Technical Specification:
Remarks:
Precaution ::--
Avoid skin / eye contact. Wear gloves and goggles when using. Use in well ventilated areas. Donot breathe vapors.
PHYSICAL PROPERTIES ::--
APPEARANCE…..ClearLiquid
COLOR…..DarkBrown
ODOR…..Fresh
pH…..13.50
SPECIFICGRAVITY…..1.25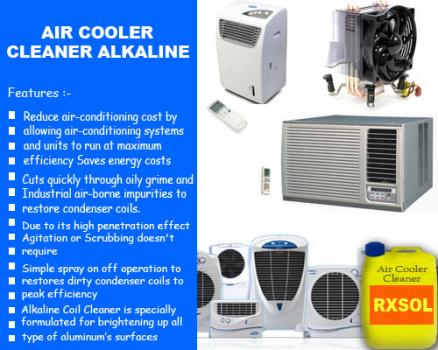 Product Description:-
RXSOL-16-1040-020 non-acid coil cleaners developed to provide foaming and brightening capabilities comparable to acid-based coil cleaners…without the dangers of hydrofluoric acid. for cleaning of Air coolers, Scavenging air systems and turbochargers of diesel engine.
Excellent grease-cutting capability.
High foaming action-penetrates deep into multi-row coils to foam out dirt,grease and grime.
One step cleaner-cleans,brightens and deodorizes.
Typical Cleaning Method :-
Dilute 1-3 parts water and apply with alow pressure sprayer. Leave on coils for 3-7 minutes then flush with water until all foam is removed. If use don built up roofsetc., it is important to make sure all residual cleaner is washed off roof surface after application. If good housekeeping practices are not followed, roof deterioration is possible. If used indoors, strong fumes may cause irritation to sensitive individuals evacuate area if necessary.
Alkaline Coil Cleaner manufacturer and supplier in Mumbai, Gandhidham, Kolkata, Chennai, Visakhapatnam, Ennore, Fujairah, Ajman, Dubai, Sharjah, Muscat Oman, Canada BC
Free Delivery / Supply Locations :
Oman, Bahrain, Abu Dhabi, Ajman, Al Ain, Dubai, Ras Al-Khaimah, Ras al Khaimah, Fujairah, Sharjah, Umm Al Quwain, Fujairah, Ruwais, Mina (Port) Zayed, Khalifa Port, Kizad, Port Rashid, Jebel Ali Port, DP WORLD, Jebel Ali Free Zone, Khor Fakkan Container Terminal, Port Rashid, Jebel Ali Port, Mina Kalid Port, Khor Fhakan Port ( Khawr Fakkan, Khawr al-Fakkan ), Sharjah Creek, Ajman, Port of Hamriyah, Mina Zayed Port, Mussafah port, Khalifa Port, Umm al-Nar Port, Um Al Quwain Port, Saqr Port, Port of Fujairah, Dibba Port, Jebel Dhanna, Mina Al Hamriya, Mina Rashid, All United Arab Emirates